2022
TALLER: "Ecotoxicidad de Efluentes: Sentando las bases para la futura regulación en América Latina".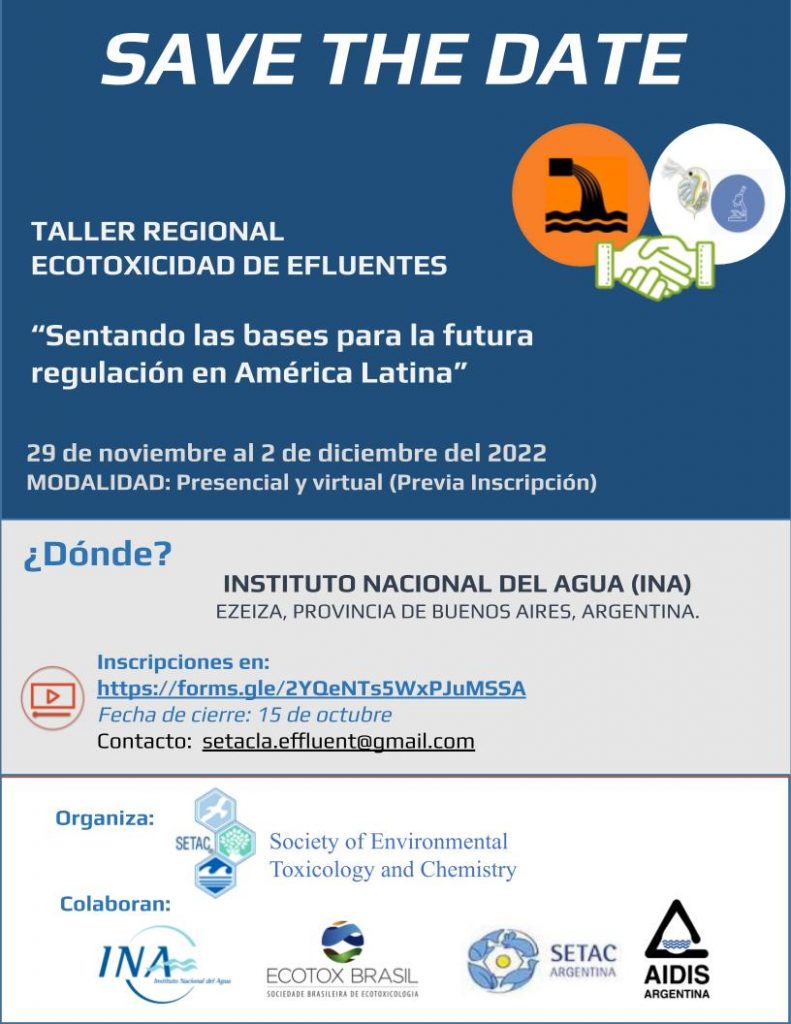 Mas información: https://youtube.com/@INSTITUTONACIONALDELAGUA
2018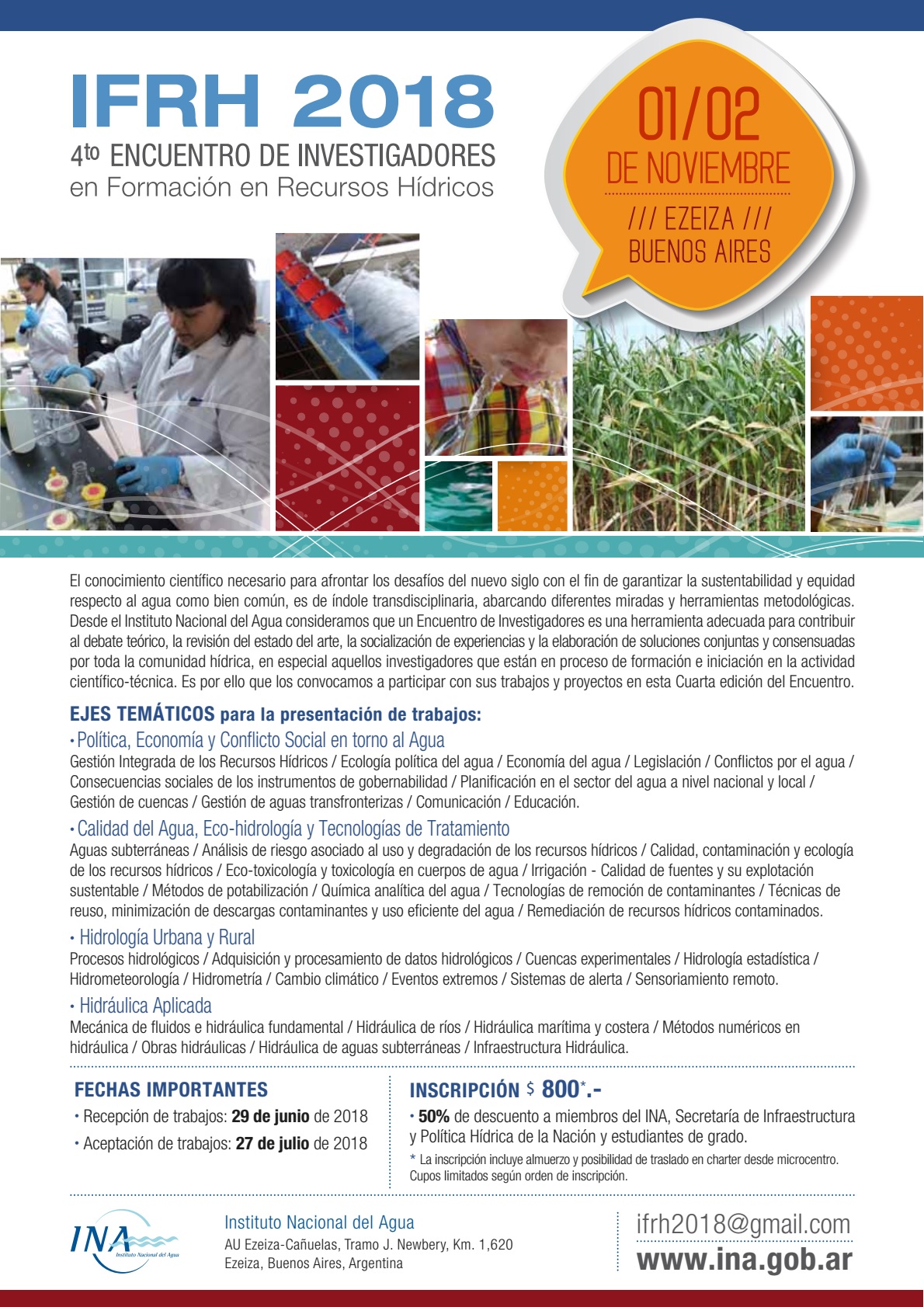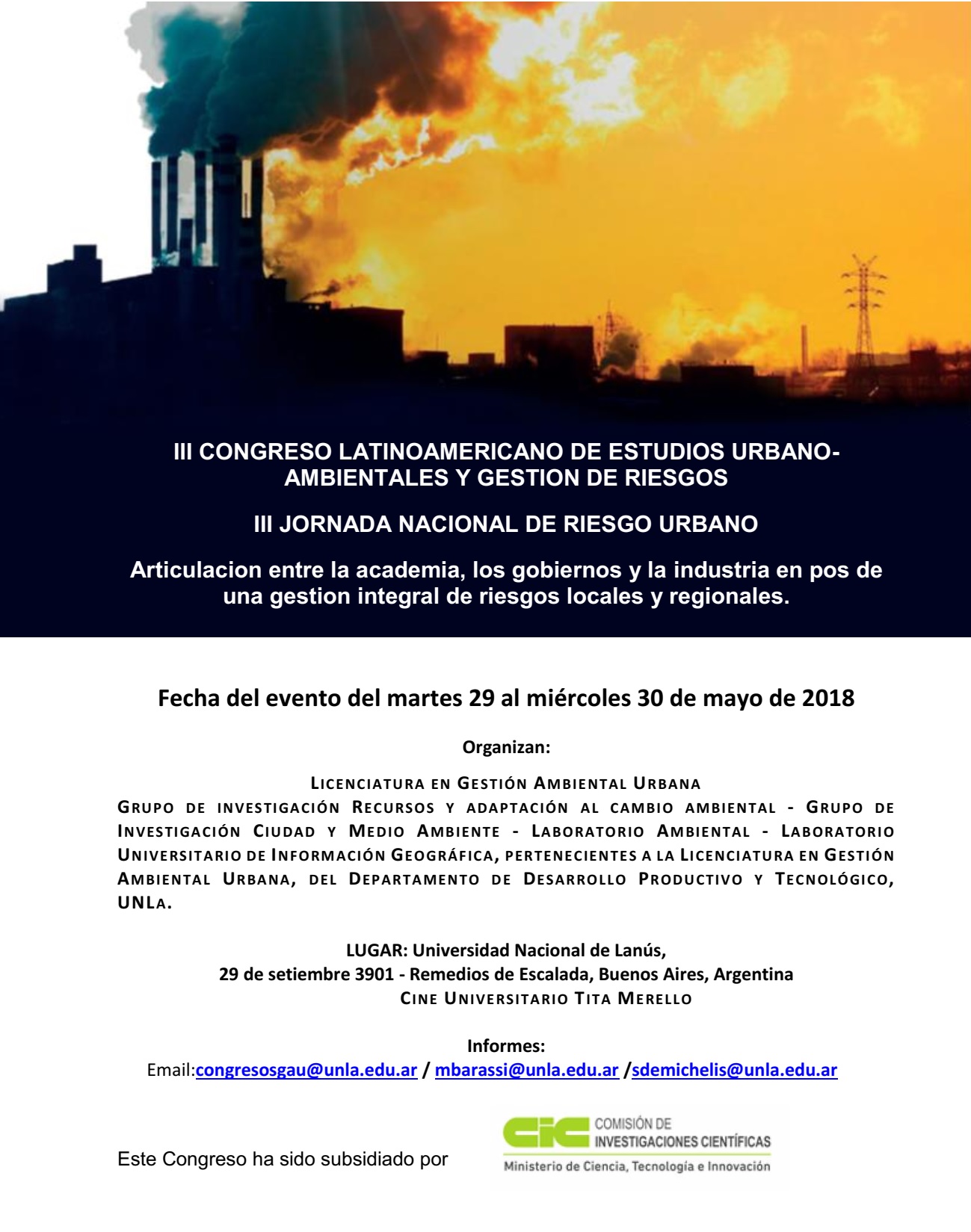 X Jornadas Nacionales de Ciencias del Mar. XVIII Coloquio Nacional de Oceanografía.
"Universidad, ciencia y sociedad: estrategias de hoy para sostener el mañana."
Página web: http://jornadasdelmar2018.exactas.uba.ar Más información: Tercera circular JNCM2018
Congresos pasados:
2017
* XI Jornadas de Desarrollo Sustentable de la Cuenca Matanza-Riachuelo y V Jornadas Nacionales de Desarrollo Sustentable de Cuencas Hídricas. 28, 29 y 30 de agosto de 2017. Inscripción gratuita. Universidad Nacional de Lanús.
* Argentina y Ambiente 2017. III Congreso Nacional de Ciencia y Tecnología Ambiental . "Ambiente y desarrollo sostenible desde una perspectiva multidisciplinaria" . 31 de Julio al 3 de Agosto de 2017. Ciudad de Santa Fe – Argentina.
* "The impact of pesticides in life, water, sediment, air and soil resourses". Convencer: Virginia Aparicio . Co-convenirse: Ana María Botero, Félix Hernández, Preben Olsen, Nicole Baran, Annette Rosenbom, José Luis Costa, Anahí Domínguez, Daniel Gimenez. Session to be held at the EGU General Assembly 2017 (EGU2017), 23 – 28 Apr 2017, Vienna, Austria. http://meetingorganizer.copernicus.org/EGU2017/session/23296/
2016
* 6th International Oxidative Stress and Calcium Signaling and TRP Channels World Congress.
Suleyman Demirel University. From 24 to 27 May.
www.cmos.org.tr/2016/t
.
* International Conference on Deriving Environmental Quality Standards for the Protection of Aquatic Ecosystems. Hong Kong, China. From 18 to 20 June. www.biosch.hku.hk/eqspae/index.html
* Segundo Congreso Latinoamericano de Estudios Urbano-ambientales y gestion de Riesgos. Segunda Jornada Nacional de Riesgo Urbano. Del 13 al 15 de junio. Universidad Nacional de Lanús. congresosgau@unla.edu.ar
* V Simposio Internacional de Biotecnología e Ingeniería Ambiental. 3iA UNSAM. Buenos Aires, Argentina. Del 25 al 29 de julio. http://www.unsam.edu.ar/5isebe/
* ATA: XXXIV Jornadas Argentinas Interdisciplinarias de Toxicología. Córdoba, Argentina. 22 y 23 de septiembre. www.toxicologia.org.ar/
* 14th International Congress of Toxicology (ICTXIV) on October 2 – 6, 2016. IUTOX-México. http://ict-mexico2016.org/general-program/